기사보기
Notice (8): Undefined variable: newversion [CORE/lib.times/views/samples/newspaper.ctp, line 65] ');" class="s_news_a">단어학습
Notice (8): Undefined variable: newversion [CORE/lib.times/views/samples/newspaper.ctp, line 70] ');" class="s_news_a">속청학습
평가문제
Notice (8): Undefined variable: newversion [CORE/lib.times/views/samples/newspaper.ctp, line 76] ');" class="s_news_a">단문학습
Notice (8): Undefined variable: newversion [CORE/lib.times/views/samples/newspaper.ctp, line 81] ');" class="s_news_a">받아쓰기
Notice (8): Undefined variable: newversion [CORE/lib.times/views/samples/newspaper.ctp, line 86] ');" class="s_news_a">퍼즐스터디
ENIE학습
워드팁
해석
resident 주민 / inland 내륙으로 / controversial 논란이 많은 / refugee camp 난민촌 / migration (계절적) 이동 / deforestation 삼림벌채 / transboundary 국경을 넘는 / dialogue 대화 / monitor 관찰하다 / a majority of 다수의 / incident 사건
닫기
방글라데시(Bangladesh)에서 두 마리의 아시아 코끼리가 무리에서 떨어져 나온 후 구조되었습니다.
음식이나 물도 없이 나흘을 해변에서 보낸 뒤 주민들이 밧줄을 그들의 목에 묶어 해변에서부터 멀리 데려왔습니다.
그들은 밧줄을 사용하여 다시 음식을 찾을 수 있는 내륙으로 인도했습니다.
이 희귀한 아시아 코끼리들의 안전은 최근 문제가 되었습니다.
2017년, 과학자들은 논란이 되고 있는 미얀마(Myanmar)의 난민 캠프가 코끼리의 중요한 이동 경로를 막았다는 것을 발견했습니다.
삼림 벌채의 증가와 함께 아시아 코끼리는 그들이 남긴 몇 안 되는 서식지를 잃고 있습니다.
국제자연보전연맹(IUCN)의 라퀴불 아민(Raquibul Amin) 대표는 코끼리를 감시하기 위해 "방글라데시와 미얀마 간의 국경을 초월한 대화"가 필요하다고 강조했습니다.
난민 캠프와 대부분의 삼림 벌채는 두 나라의 국경에서 볼 수 있습니다.
아민에 따르면 이것은 코끼리 이동과 관련된 지난 2년 동안 네 번째 사건이었다고 합니다.
닫기
[890호] Myanmar Elephants Rescued by Locals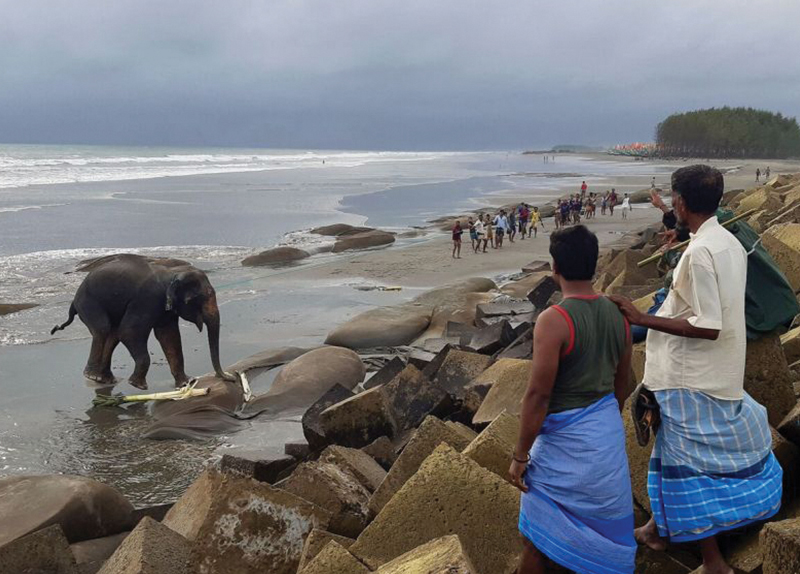 Two Asian elephants in Bangladesh were rescued after they were separated from their herd. After spending four days on the beach with no food or water, local residents led them away from the beach by tying ropes to their necks. They used the ropes to lead them back inland where they could find food again.
The safety of these rare Asian elephants has become an issue recently. In 2017, scientists discovered that a controversial refugee camp in Myanmar had blocked an important migration route for the elephants. Along with increased deforestation, Asian elephants are losing the few habitats they have left.
The country head of the International Union for Conservation of Nature (IUCN), Raquibul Amin, stressed that "a transboundary dialogue between Bangladesh and Myanmar" was needed to monitor the elephants. Both the refugee camp and a majority of the deforestation can be found at the border between the two countries.
According to Amin, this was the fourth incident in the last two years related to elephant migration.
Boram Ma
For The Junior Times